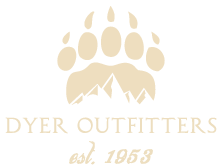 The Tobique river winds it's way into a rich, wooded interior where Deer, Bear, Moose and most fur-bearing animals are in abundance. Our Lodge is located in this area!
Not everyone who hunts with us always gets their trophy, but you know, 90% of our hunters see the game in it's natural setting. Our fall Deer, Bear and Moose season is certainly all it's bragged up to be!
You bring:
Rifle, Bow or Shotgun, Ammunition, Sleeping bag, Gun sock and Personal effects.
We'll Provide
Meals & Lodging, Guide Service, Preparation of Stands, Trophy Preparation and Full skinning service - and famous NB hospitality!
2018 Seasons:
September 25 - 29
License:
Provincial Lottery Draw
Lottery
Apply for the lottery draw between February 6th to April 30th.You can call 1-800-994-2666 or go online at http://www.gnb.ca.Keyword: Natural Resources. A non-refundable application fee of $40.96 Canadian funds will be charged to your credit card. Callback between May 15 - June 9 to see if you have been successful.
For Rates and available hunts, contact Chris (506-356-7106) or Chris (506-356-5284)
***Price includes private land passes***
*** Special Rates are available depending on the size of the group and also for combination hunts. For more information call Chris at 506-356-7106 ***
Fall bear & deer combination hunts available at a reduced rate.
NOTE: Gratuities for Guides & Cooks not included in price!