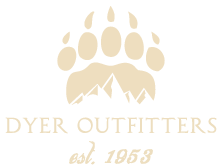 Welcome to Dyer's Hunting Lodge and Camps in beautiful New Brunswick, Canada - where trophy hunts are the "name of the game"!
Our Lodge and Camps are located in the beautiful Tobique Valley. The Tobique is a tributary of the world-famous St. John River which winds its way through the heart of New Brunswick, Canada, to the Atlantic Ocean.
The Tobique is situated about 110 miles north of Fredericton, the provincial capital. It winds it's way into a rich wooded interior where deer, bear, moose and most native fur-bearing animals are in abundance. It is one of the greatest salmon rivers in the world and also yields trout that will test many an angler's tackle and skill!
We welcome you and encourage you to browse our site and choose the hunting or fishing adventure that suites you best. In addition to hunting Trophy black bear, coyote, moose and white-tail deer, we offer excellent speckled brook trout, lake trout and smallmouth bass fishing in North America. A high percentage of our smallmouth bass average in the 3-5 Lb range. We also offer woodcock, grouse and waterfowl hunting -and- now, between January 1 and March 31st we offer family winter activities such as snowmobile tours. In the summer time we offer river canoe trip packages and ATV tours.