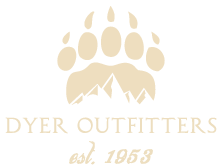 Deer hunting takes place on private land, public land and in managed areas behind controlled locked gates. (A gate fee is required to enter into these areas however this fee is already included in our prices).
The Tobique river winds it's way into a rich, wooded interior where Deer, Bear, Moose and most fur-bearing animals are in abundance. Our Lodge is located in this area!
Not everyone who hunts with us always gets their trophy, but you know, 90% of our hunters see the game in it's natural setting. Our fall Deer, Bear and Moose season is certainly all it's bragged up to be!
You bring:
Rifle, Bow or Shotgun, Ammunition, Sleeping bag, Gun sock and Personal effects.
We'll Provide
Meals & Lodging, Guide Service, Preparation of Stands, Trophy Preparation and Full skinning service - and famous NB hospitality!
2018 Seasons:
Deer archery season: October 1 - November 17
 
Deer rifle season: October 22 - November 17
License Fees:
$206.79 license
For Rates and available hunts, contact Chris (506-356-7106) or Chris (506-356-5284)
***Price includes private land passes***
*** Special Rates are available depending on the size of the group and also for combination hunts. For more information call Chris at 506-356-7106 ***
Fall bear & deer combination hunts available at a reduced rate.
NOTE: Gratuities for Guides & Cooks not included in price!